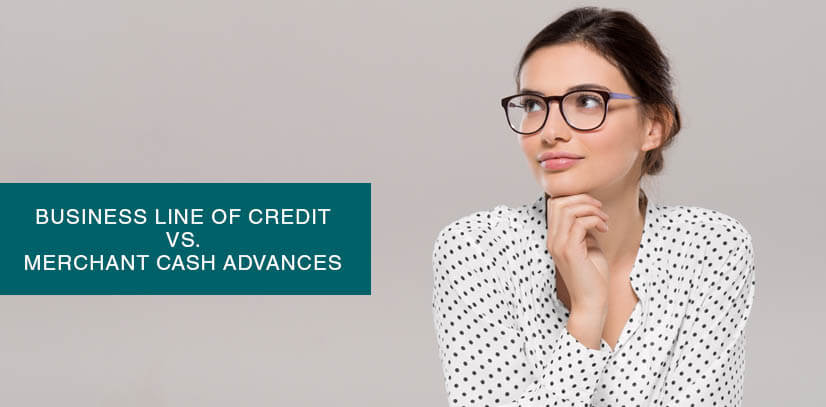 If you're in need of some extra cash for your small business – whether you're expanding into a new location or need to get through a lean season of sales – you're probably considering several different options. From a small business line of credit, to merchant cash advances, business credit cards, and more – you've got a lot of options. In this article, we'll take a look at the basics of small business lines of credit vs. merchant cash advances and discuss which one may be right for you.
Small Business Line of Credit
Essentially, a small business line of credit is an arrangement between a lender and a borrower, which gives them a credit limit. They can then pull funds at any time, as long as they do not exceed this maximum limit. It is similar to a business credit card, except you can easily withdraw cash – without steep cash advance fees. There are many different kinds of credit lines – but most of them are unsecured and revolving, like a business credit card. This means that you can borrow money until you reach your credit limit – and then additional credit is freed up whenever you make a payment.
Small Business Line of Credit – Pros & Cons
Interested in the pros and cons of lines of credit? Here's what you need to know:
Pros:
Flexible borrowing (you can borrow as much or as little as you need)
Builds credit score
Helps even out cash flow
Cons:
Requires a good credit score
Usually has high up-front fees
You may be personally liable in case of default

Merchant Cash Advances
Merchant cash advances are a bit different than business lines of credit. Essentially, a merchant cash advance allows merchants to receive an advance against their future cash and credit card sales. The merchant partners with a company like Merchant Cash Group for an advance. Then, this advance is repaid as the merchant cash advance company takes a small percentage of the total credit card and/or cash sales of the business. Because merchant cash advances are repaid based on your revenue, they scale with your business. If business is slow, your balance will decrease at a slower rate – but when business is booming, you can quickly pay off the advance.
Merchant Cash Advances – Pros & Cons
Not sure if a merchant cash advance is right for you? Here are a few pros and cons:
Pros:
Flexible repayment based on your sales volume
Funding is delivered quickly
Does not require a high credit score, and in some cases your credit score is not required
Cons:
Some merchant cash advance companies have high fees
Bankruptcy may preclude application for a merchant cash advance
Factor rates may be high
Merchant Cash Advances – The Best Way to Get The Cash You Need!
Merchant cash advances offer a flexible way to get the cash that you need to keep your business growing. You can repay based on how successful your business is – and the cash is delivered quickly after an easy online application. While credit lines can be useful, they can also be risky – especially if your business debt gets out of control. For most small business owners, a merchant cash advance is the best way to get a quick injection of cash. So, apply now with Merchant Cash Group, and take the first step toward getting the funding that you need to succeed.