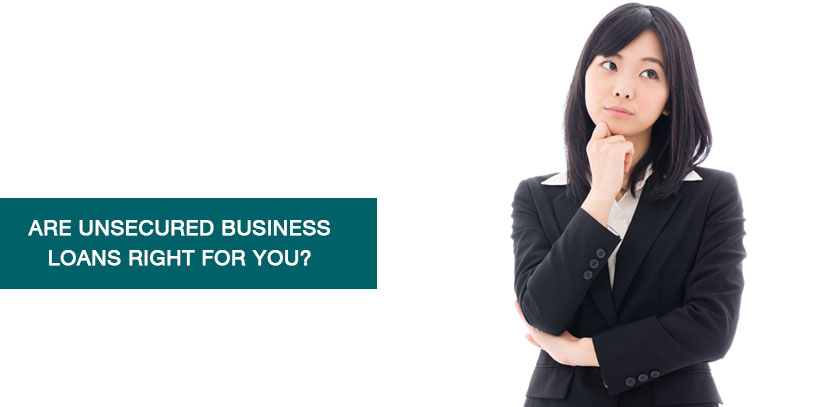 If you're a small business  owner looking for working capital, you've come to the right place. In this article, Merchant Cash Group will take a look at the basics about unsecured business loans – and how they compare to other business financing options. Let's get started now!
Unlike a traditional loan, which is secured by some kind of collateral in your business, unsecured business loans do not require any kind of collateral or additional capital. Lenders who offer unsecured loans do not require you to put up any kind of collateral – your home, business, car, IRA, or any other monetary instruments – to get a business loan. However, those applying still must meet basic income and credit requirements, which can often be quite high. The loan amount is mainly based on your credit history. Because unsecured business loans for bad credit do not require collateral, they are a reasonable way to get extra working capital without risking your personal assets.
Let's take a deeper look at the pros and cons of unsecured business loans now.
There are a few benefits of unsecured business loans which can make them a reasonable choice for some small businesses. 
Higher loan amounts – Counter-intuitively, you can get more money from an unsecured loan if you have a good credit history. This is because lending amounts for secured loans are limited by the value of your collateral – and this restriction is not a factor in issuing unsecured loans.
Increased business flexibility – An unsecured loan can give you the financial flexibility you need to make payroll during a tough month, expand your operations, or add new products. That makes it easier to succeed!
You can build a relationship with the lender – If you work with the same lender multiple times, you can form a relationship, and start getting better terms for future loans.
Unlike merchant cash advances, unsecured business loans have some disadvantages which may make them a poor choice for you.
Little flexibility when repaying the loan – Typically, you cannot repay your loan early to save on interest without steep repayment penalties. And if you are ever late with a payment more than once, the lender may immediately write it off, and send you to collections – because they cannot collect any collateral. This means it's very important to make all of your payments on time.
You need great credit history – For the most part, having a sub-prime (600 or below) FICO credit score will prevent you from getting an unsecured business loan. If you have been having financial issues, either personal or business, you may not be able to get an unsecured loan.
You may damage your reputation and business – If you fail to make your payments for an unsecured loan on time, it will be very difficult to get another business loan – whether a secured business loan or unsecured – in the future.
Unsecured business loans are expensive – Because banks have no collateral to seize if you fail to pay, unsecured business loans are inherently riskier. That means they cost more – you will have to pay higher APRs, service fees, and other associated costs. The high cost of an unsecured business loan means you may be in trouble if you have a rough time in your business and cannot easily make your payments.
Are Unsecured Business Loans Right For You?
We hope that this article has been helpful as you think about whether or not unsecured business loans are right for you.
If you don't think that an unsecured business loan is the right choice, there's good news – you have other options! Take a look at merchant cash advances from Merchant Cash Group and see if this is a better choice for you and your business!