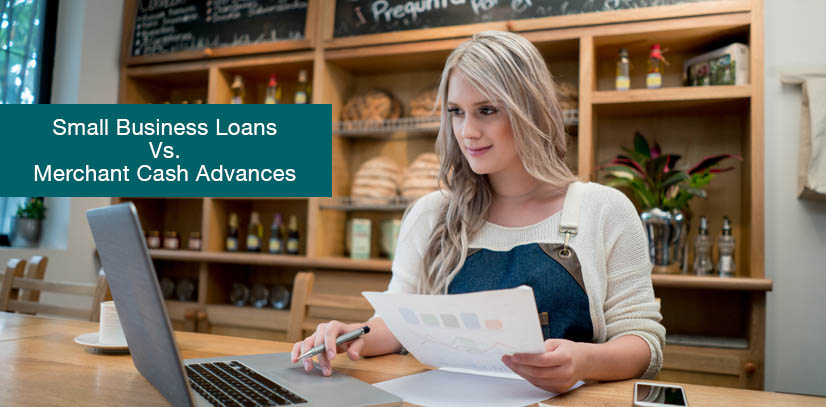 If you run a small business, you probably already know how difficult accessing a bank loan can become. The process is quite intensive, and your application may not even be approved on time. Luckily, there's an easier option. Merchant cash advances are a much more simple and accessible way to fund your small business. Unlike traditional small business loans where you have to make regular payments of the principal amount and interest, merchant cash advances deduct an agreed percentage of future sales.
Benefits that merchant cash advances have over small business loans:

Easy Application and Approval Process
Unlike bank loans, which involve paperwork and application processes, applying for a merchant cash advance online is quite simple. Everything is done online, and all you have to do is to provide some basic information such as your business ID and recent bank statements. When approved, you'll have the opportunity for money in your account in about 48 hours. The process of applying for a merchant cash advance is much less stringent than applying for a small business loan with a bank, and the turnaround time is much shorter, making it ideal for small business owners.  
Credit Score Doesn't Matter
Your credit score is a very significant deciding factor when it comes to the small business loan application. With a tarnished credit score, your chances of qualifying for a small business loan are almost zero. However, when reviewing merchant cash advance applications, our company does not discriminate due to poor credit history. For instance, Merchant Cash Group can provide your business with a lump sum of money in exchange for a percentage of future sales, without taking your credit score into account. So, if you're worried that your poor credit score will hinder your access to a small business loan, a merchant cash advance may be the best solution for your business. 
No Collateral is required
In most cases, traditional bank loans will require your business to pledge collateral up-front. This means that if you need a small business loan, you'll have to show the lender that you have assets that can secure the loan, like property. This is not the case when it comes to merchant cash advances. All that we need to approve your merchant cash advance is proof of past sales. Thus, if you have a solid sales record, your chances of qualifying are very high. 
Flexibility
Flexibility is another factor that makes merchant cash advances better than small business loans. At Merchant Cash Group, we offer merchant cash advances with the most flexible terms of payment. The split funding option automatically applies the specified percentage of sales towards the advances.  With the ACH funding option, we determine daily debit amount according to the business's daily sales. If your sales decline, you can send us a request to reduce the daily debit amount accordingly. Or if your sales increase, we can increase the daily debit and you'll be eligible for renewal faster than expected! Such flexibility is unheard of in the world of traditional bank loans. 
The Takeaway
Overall, merchant cash advances are a great alternative for small businesses that are looking for more convenient sources of funding. The benefits of merchant cash advances include easy access, higher approval chances, and convenient terms of payment. If you're looking for a reliable cash advance company, Merchant Cash Group is a partner you can always count on to help you get the money that your business needs, when you need it.  
Does Merchant Cash Group offer small business loans for women? Click here to find out!